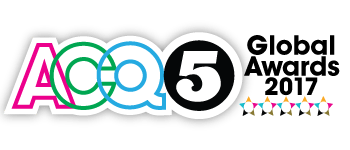 NEW YORK, July 31, 2017 — BOLT® Solutions, Inc. (www.boltinc.com), the leading digital distribution platform provider to the property and casualty (P&C) insurance industry, has been recognized as a winner in the 2017 ACQ5 Global Awards hosted by ACQ Magazine and the ACQ5 news portal, for its intimate knowledge and expertise in the insurance industry as well as its innovative contributions to InsurTech and the P&C insurance industry.
"All nominees and winners of the ACQ5 awards have played an important part in fueling change in their respective industries," said Kathleen Garlasco, senior vice president, enterprise marketing BOLT Solutions. "We are honored that BOLT's commitment to revolutionize the P&C insurance industry has been recognized. Our dedication to InsurTech innovation has powered our success and will continue to inspire new products and strategies that will help incumbent P&C insurers transform the way they sell and market their products."
ACQ5 boasts an independent nomination process with award winners chosen by the industry itself. The awards rise above the status of participation certificate and represent an endorsement of outstanding work. Recipients are acknowledged for their achievements and recognized as the elite of their industry, earning a place amongst a distinguished group by having their products, initiatives, contributions and achievements applauded on a prominent and far-reaching scale.
"The 2017 ACQ5 Global Award winners represent the best of breed across all industry sectors and have earned these honors by standing out in a group of very impressive finalists. We are lucky enough to work with some of the most influential and enterprising organizations in the world and are proud to share their message with our readers," said Jake Robson, Group Editor of ACQ5. "The ACQ5 Global Awards set out to recognize the achievements of those who are responding most successfully to the demands being placed on them."
The BOLT Platform integrates all of the key elements required to successfully sell insurance online: technology, markets, products, people, and process. BOLT helps insurers meet consumer demands through a powerful digital distribution system that seamlessly connects to back-office systems, integrates with traditional distribution channels, and offers access to a tightly integrated market network. This gives insurers the ability to bundle policies from the full market of offerings with their own products. It's a one-stop shop for insurance as insurers quote, bind, and issue multiple products in one seamless transaction. With the BOLT Platform, insurers meet more of the needs of their customers more of the time, and as a result, enhance acquisition and retention rates, boost customer wallet-share, increase premiums and grow revenues.
About BOLT Solutions Inc.
BOLT® Solutions, Inc. (www.boltinc.com), the leading provider of digital distribution solutions to the P&C insurance industry, is helping insurers transform the way they sell and market their products to consumers and small business owners. Compatible with existing infrastructure, The BOLT PlatformTM provides a single interface that connects seamlessly with back-office systems and improves carrier reach through a vast market network of new products. Insurers gain the ability to bundle their offerings with those from other carriers, positioning them to meet all of the customer's needs without underwriting additional risk. Designed to connect carriers and their agents directly to consumers and small business owners, The BOLT Platform delivers the optimized solutions, and ideal experience customers expect today. BOLT is an Actua company (Nasdaq: ACTA).
Contact:
Nicholas Lindblom
BOLT Solutions, Inc.
212-608-4646 Ext: 128